MIT welcomes six new assistant deans for diversity, equity, and inclusion
Image courtesy of the Institute Community and Equity Office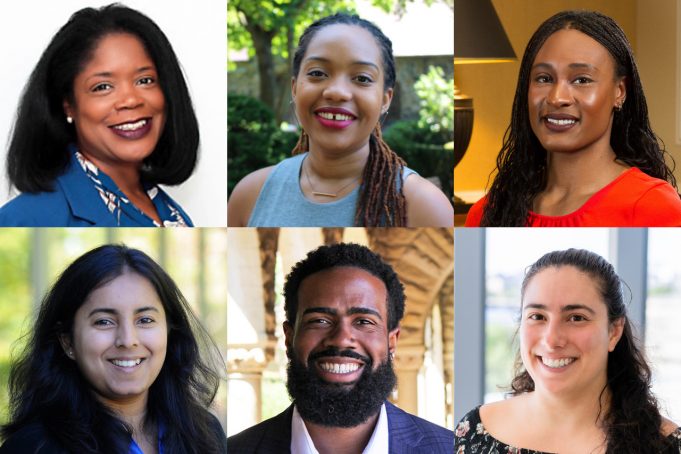 Image courtesy of the Institute Community and Equity Office
The Institute's five schools and the MIT Schwarzman College of Computing will have dedicated professional staff to advance initiatives locally and across the Institute.
June 28, 2021
---
As an important step forward in MIT's ongoing efforts to create a more welcoming and inclusive community, the Institute has hired six new assistant deans, one in each school and in the MIT Stephen A. Schwarzman College of Computing, to serve as diversity, equity, and inclusion professionals.
Set to be in place by the fall of 2021, these new positions are a result of the February 2020 recommendations of the MIT working groups charged with implementing the findings of the National Academies of Science, Engineering, and Medicine's (NASEM) report on sexual and gender harassment of women in academia. Together, these reports called for "a network of support, advocacy, and community-building expertise across campus to improve our community culture." MIT President L. Rafael Reif echoed these commitments to new staff and resources in his July 2020 letter to the community addressing systemic racism.
"MIT's success in developing solutions to the world's greatest challenges depends on our ability to attract and retain a diverse and collaborative community, and these appointments will help us strengthen that vibrant community," says Provost Martin Schmidt. "This talented group will be an invaluable resource to everyone in our community as we roll out and implement our DEI Strategic Action Plan. I welcome them to MIT and look forward to engaging with them in this work."
All six searches were conducted simultaneously and coordinated through the Institute Community and Equity Office (ICEO). John Dozier, who heads the ICEO, will serve as a "dotted-line" supervisor for all six assistant deans. Dozier, along with ICEO Deputy Director Maryanne Kirkbride and Associate Provost Tim Jamison, interviewed the candidates during the search process; together, they are also co-leading the creation of the DEI Strategic Action Plan.
"The search process itself was like a trial run for the kinds of collaborative practices we hope to move ahead with this group," Dozier says. "We want this team to build on what we have already learned about working together. But we also want them to add their ideas and fresh perspectives to the challenges we face," he adds. "This is a tremendously exciting opportunity for building community at MIT."
The new assistant deans are:
Alana Anderson, assistant dean for diversity, equity, and inclusion in the MIT Schwarzman College of Computing. She began her role on June 14. Most recently, Anderson served as the director of programs for diversity and inclusion in the Office of the Provost at Boston University. She has spent her career in higher education with roles focusing on student engagement, diversity, and inclusion at Babson College, Bentley University, and MIT's Student Activities Office. Anderson earned her bachelor's in politics at Brandeis University, a master's degree in higher education and student affairs from Indiana University, and a PhD in higher education from Boston College.
Nandi Bynoe, assistant dean for diversity, equity, and inclusion in the School of Engineering. She will start on July 6. Bynoe was the associate dean of diversity and inclusion at the Tufts Schools of Arts, Sciences, and Engineering since 2019. She helped create and establish Tufts' bias education and resource team to address incidents of bias, discrimination, and hatred on campus. Prior to her current role, she worked in student services and student affairs and served as the first sexual misconduct resource specialist in the Tufts Center for Awareness, Resources and Education. Bynoe earned a BA in international relations and an MA in educational studies from Tufts.
Kuheli Dutt, assistant dean for diversity, equity, and inclusion in the School of Science. She will start on Aug. 1. Most recently, Dutt served as assistant director for academic affairs and diversity at Columbia University's Lamont-Doherty Earth Observatory, where she oversaw diversity, equity, and inclusion efforts related to appointments and promotions, salary structures, mentoring, awards and recognition, governance, and the advancement of junior scientists since 2008. Her research on implicit bias, gender, race, LGBTQ+ awareness, and STEM has been published in many notable journals and been widely covered by the media. Dutt has a BA in economics from Lady Shri Ram College and a PhD in public policy from Northeastern University.
Tracie Jones, assistant dean for diversity, equity, and inclusion in the School of Humanities, Arts, and Social Sciences. She will start on July 1. Most recently, Jones was the director of diversity, equity, inclusion, and belonging at Harvard's Graduate School of Education. In this role she worked to advance initiatives and develop programming for faculty, staff, and students. She earned a BA in liberal arts in extension studies and sociology from Harvard University and an MEd in higher education administration from Northeastern University. She also has certifications from the Social Justice Training Institute, the London School of Economics and Political Science, and the Harvard Kennedy School.
Monica Orta, assistant dean for diversity, equity, belonging, and student support in the School of Architecture and Planning. She will start on June 28. Orta served as the director of diversity and student support at the MIT Media Lab since 2014. Gathering data, both quantitative and qualitative, she laid out a bold strategic plan that required new admissions processes, increased faculty participation, and community programming. She earned a bachelor's degree in psychology from Boston University and a master's degree in education from Northeastern University. Before joining the Media Lab, Orta worked on diversity initiatives, including the MIT Summer Research Program, in MIT's Office of Graduate Education.
Bryan Thomas Jr., assistant dean for diversity, equity, and inclusion in the MIT Sloan School of Management. He will start in August. Thomas served as the associate director of the Enhancing Diversity in Graduate Education Doctoral Fellowship Program at Stanford University since 2019. Previously, Thomas was assistant director of graduate education programs and diversity at the Stanford School of Medicine and worked as an academic success and retention specialist at Drake University. He earned a BA in communications from the University of Illinois at Urbana-Champaign and an MEd in higher education administration from Florida International University, and is currently pursuing a PhD in higher education leadership from Colorado State University.
This cluster of new hires is significant, Dozier notes, and there are more in the works. A search is underway to create a senior-level position in the Office of the Vice President for Research, and several academic departments have either already hired diversity officers or have searches in process.
"I look forward to seeing this group come together and to helping connect it with the many other community-building efforts across MIT," Dozier says. "There are a lot of people in the MIT community who are already working in this area, and this is starting to feel like critical mass."