Break Through Tech AI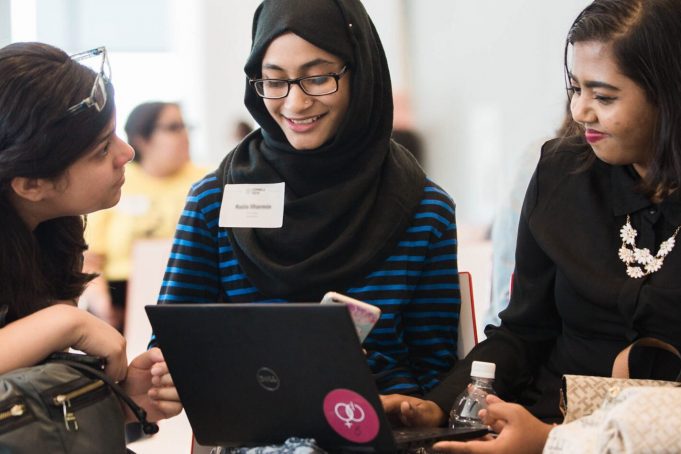 Break Through Tech AI is a new program to bridge the talent gap for women and underrepresented genders in computing fields by helping students gain the skills they need to get jobs in the fastest-growing areas of tech: data science, machine learning, and artificial intelligence.

Hosted by the MIT Schwarzman College of Computing in collaboration with Break Through Tech — a national initiative launched by Cornell Tech in 2016 to increase the number of women and underrepresented groups graduating with degrees in computing — Break Through Tech AI will provide skills-based training, industry-relevant portfolios, and mentoring to qualified students in the Greater Boston area.

The free, 18-month program will also provide each student with a stipend for participation to lower the barrier for those typically unable to engage in an unpaid, extra-curricular educational opportunity.
Program details
Skills-based curriculum
Break Through Tech AI will kick-off this summer at MIT with an eight-week, skills-based online course and in-person lab experience that teaches industry-relevant tools to build real-world AI solutions. Students will learn how to analyze data sets and use several common machine learning libraries to build, train, and implement their own ML models in a business context.
Industry projects
Following the summer course, students will be matched with machine-learning challenge projects for which they will convene monthly at MIT in person and work in teams to build solutions and collaborate with an industry advisor or mentor throughout the academic year, resulting in a portfolio of resume-quality work.
Mentoring and career coaching
Participants will also be paired with young professionals in the field to help build their network, prepare their portfolio, practice for interviews, and cultivate workplace skills.
For more information about the program, contact us at breakthroughtechai@mit.edu.
Helping position students from diverse backgrounds to succeed in fields such as data science, machine learning, and artificial intelligence is critical for our society's future. We look forward to working with students from across the Greater Boston area to provide them with skills and mentorship to help them find careers in this competitive and growing industry.

Daniel Huttenlocher, dean of the MIT Schwarzman College of Computing and Henry Ellis Warren Professor of Electrical Engineering and Computer Science