Computing college forms bit by bit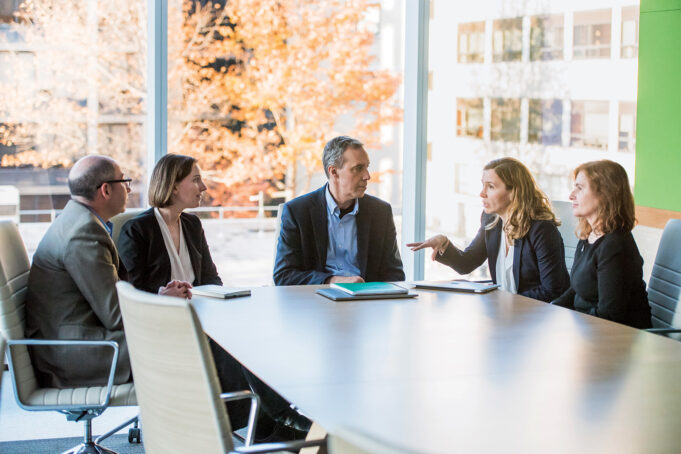 Schwarzman College leadership discuss MIT's mission to harness tech advances for good.
April 23, 2020
---
What is it like to create a whole new cross-cutting academic entity at MIT, one that will impact nearly everyone on campus while attempting to meet the broad needs of the computing field, our era's major technological force?

MIT Stephen A. Schwarzman College of Computing (SCC) dean Daniel Huttenlocher SM '84, PhD '88 compares the process to modern product development, where companies launch early versions to market, take in feedback, and iterate — enabling new products to evolve quickly.

"We are building this plane and flying it at the same time," he says. "I don't think we know enough now to build the full thing. The way we'll learn is by trying things out and being flexible to continued change."

Still, less than a year and a half after MIT announced the gift establishing the SCC, the groundbreaking new entity is already taking shape. The college has a deputy dean for research, another for academics, and two associate deans of the Social and Ethical Responsibilities of Computing (SERC). The college also has incorporated a number of new and existing academic programs.

The college stands in a unique position spanning MIT's five existing schools, the School of Architecture and Planning; the School of Engineering; the School of Humanities, Arts, and Social Sciences (SHASS); the MIT Sloan School of Management; and the School of Science. It represents the first major structural change since the early 1950s, when SHASS and MIT Sloan were established.

By both supporting and drawing strength from the five schools, the college will address three major challenges: meeting the exploding need for computer science, artificial intelligence, and related computing research and education; facilitating the bidirectional movement of knowledge between computational fields and other disciplines; and forging a path toward more socially and ethically responsible computing, both at MIT and in the greater world.

"As humanity works to solve problems ranging from climate change to curing disease, removing inequality, ensuring sustainability, and eliminating poverty, computing opens the door to powerful new solutions," says SCC deputy dean of research Daniela Rus, who is also director of the Computer Science and Artificial Intelligence Laboratory (CSAIL) and the Andrew and Erna Viterbi Professor in the Department of Electrical Engineering and Computer Science. "With the Schwarzman College of Computing as our foundation, I believe MIT will be at the forefront of those solutions."
Computing fields
Initially, SCC leaders plan to address the huge demand for, and the rapidly changing content of, undergraduate and graduate computing education: 40% of undergraduates major in computer science, but only 7% of faculty have appointments in that field.

"Many students have interests and passions beyond computer science but want to be fluent in computing techniques and methodologies," says Asu Ozdaglar SM '98, PhD '03, deputy dean of academics for the college, head of the Department of Electrical Engineering and Computer Science, and the School of Engineering Distinguished Professor of Engineering.
"As humanity works to solve problems ranging from climate change to … eliminating poverty, computing opens the door to powerful new solutions," Rus says.
To enhance computing across the curriculum, the SCC is creating the Common Ground for Computing Education, an interdepartmental teaching collaborative. This entity will support new pedagogical partnerships and provide a shared resource for faculty who teach similar topics, such as numerical computing, in different disciplines.

Additionally, the SCC will support ambitious research to advance computing itself. "We have goals in core aspects of computing — like developing approaches to software and hardware that can dramatically improve computing capabilities over the next 50 years, using computation to understand comprehensibly human intelligence, and creating hack-free security systems," says Rus. She is coordinating the college's research units, including CSAIL, the MIT Laboratory for Information and Decision Systems, and the MIT Quest for Intelligence.
Computing in other disciplines
The SCC's mandate is much broader than computer science and artificial intelligence, because computing is now integral across all five MIT schools. "Computing is transforming intellectual inquiry in almost every discipline," Huttenlocher says. "At the same time, those disciplines are starting to affect research and education at the core of computing and the ways people think about computing."

Ozdaglar describes the questions driving researchers across MIT as "bidirectional." "It's not just using computing techniques, methodologies, and data science in social science, but also social science questions and insights that are informing the development and design of technologies by computer scientists. That's something the college is taking very much head-on," she says.

For example, political science and linguistics now rely heavily on computing for data analysis. And computer scientists find they can benefit from humanistic insights for such tasks as incorporating human decision making into online platform design.

The SCC will therefore foster cross-cutting research and educational paths, notably by supporting new and existing blended majors such as Course 6-14, which combines computer science, economics, and data science. "What the blended majors have done is enable students to be skilled in computer science but also to pursue their passions in other areas — whether it be economics or urban science or something else," Ozdaglar says.

The SCC influence on the undergraduate experience will go far beyond such majors, however, since essentially every MIT student gets some computing instruction. SCC leaders are carefully considering "what kinds of questions and materials and sets of considerations do we want to make sure students are encountering at some level multiple times" during their undergraduate years, says SERC's associate dean David Kaiser, the Germeshausen Professor of the History of Science and professor of physics.
Broader impacts and responsibilities of computing
Computing's very power and ubiquity does raise concerns — about job security, privacy, military applications, and beyond — that matter to engineers, scientists, artists, and humanists alike. However, people in diverse fields often approach these concerns differently. That's why one of the college's primary missions is to convene disparate thinkers to address computing's enormous impacts — not just at MIT but in the larger world.

"There's sometimes less immediate overlap in methods, approaches, or ways of framing questions between the humanistic disciplines and computing or engineering approaches more broadly," Kaiser says. The SCC's goal is to find commonalities. "It's an exciting challenge. What does it take to get people in a room together who aren't often in a room on a regular basis?"

The ambitious, overarching vision is to "actively weave social and ethical considerations into everything we're doing," says SERC associate dean Julie Shah '04, SM '06, PhD '11. "Traditionally, many of us technologists aren't trained to pause and envision the possible futures for how our tech can and will be used. We need new habits of mind and action.

SERC will establish best practices and disseminate them, informing policy and practice in government and industry. "If we just do this as an academic exercise, it's not enough," Huttenlocher says.

Two more elements of the college will ultimately support this broader impact mission. An assistant or associate dean of equity and inclusion will be brought onboard to help broaden participation in computing classes and degree programs and bolster the diversity of graduate students and faculty candidates in computing fields.

Looking ahead, a Center for Advanced Studies of Computing is planned to seed new scholarly, educational, and policy projects via project-oriented semester- or yearlong programs co-led by MIT faculty, with "fellows" from within and beyond MIT.
---
This article originally appeared in the Spring 2020 issue of MIT Spectrum magazine.