Architectural heritage like you haven't seen it before
Image: Nikolaos Vlavianos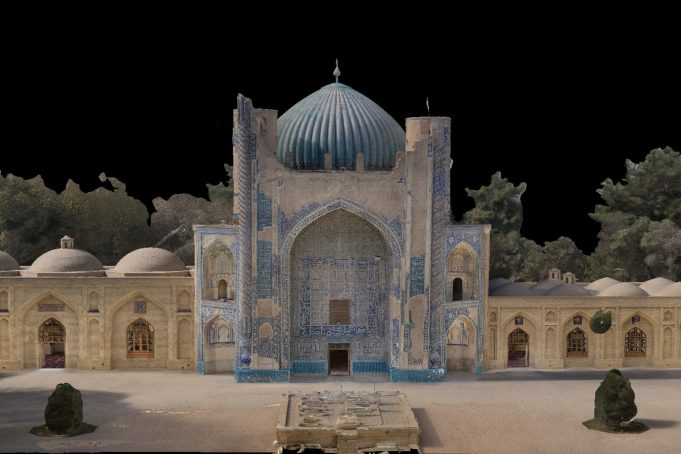 Image: Nikolaos Vlavianos
"Ways of Seeing" project documents endangered Afghan heritage sites through digital imaging, virtual reality, and hand-drawn professional renderings.
May 19, 2023
---
The shrine of Khwaja Abu Nasr Parsa is a spectacular mosque in Balkh, Afghanistan. Also known as the "Green Mosque" due to the brilliant color of its tiled and painted dome, the intricately decorated building dates to the 16th century.
If it were more accessible, the Green Mosque would attract many visitors. But Balkh is located in northern Afghanistan, roughly 50 miles from the border with Uzbekistan, and few outsiders will ever reach it. Still, anyone can now get a vivid sense of the mosque thanks to MIT's new "Ways of Seeing" project, an innovative form of historic preservation.
"Ways of Seeing" uses multiple modes of imagery to produce a rich visual record of four historic building sites in Afghanistan — including colorful 3D still images, virtual reality imagery that takes viewers around and in some cases inside the structures, and exquisite hand-drawn architectural renderings of the buildings. The project's imagery will be made available for viewing through the MIT Libraries by the end of June, with open access for the public. A subset of curated project materials will also be available through Archnet, an open access resource on the built environment of Muslim societies, which is a collaboration between the Aga Khan Documentation Center of the MIT Libraries and the Aga Khan Trust for Culture.
"After the U.S. withdrawal from Afghanistan in August 2021, Associate Provost Richard Lester convened a set of MIT faculty in a working group to think of what we as a community of scholars could be doing that would be meaningful to people in Afghanistan at this point in time," says Fotini Christia, an MIT political science professor who led the project. "'Ways of Seeing' is a project that I conceived after discussions with that group of colleagues and which is truly in the MIT tradition: It combines field data, technology, and art to protect heritage and serve the world."
Christia, the Ford International Professor of the Social Sciences and director of the Sociotechnical Systems Research Center at the MIT Schwarzman College of Computing, has worked extensively in Afghanistan conducting field research about civil society. She viewed this project as a unique opportunity to construct a detailed, accessible record of remarkable heritage sites — through sophisticated digital elements as well as finely wrought ink drawings.
"The idea is these drawings would inspire interest and pride in this heritage, a kind of amazement and motivation to preserve this for as long as humanly possible," says Jelena Pejkovic MArch '06, a practicing architect who made the large-scale renderings by hand over a period of months.
Pejkovic adds: "These drawings are extremely time-consuming, and for me this is part of the motivation. They ask you to slow down and pay attention. What can you take in from all this material that we have collected? How do you take time to look, to interpret, to understand what is in front of you?"
The project's "digital transformation strategy" was led by Nikolaos Vlavianos, a PhD candidate in the Department of Architecture's Design and Computation group. The group uses cutting-edge technologies and drones to make three-dimensional digital reconstructions of large-scale architectural sites and create immersive experiences in extended reality (XR). Vlavianos also conducts studies of the psychological and physiological responses of humans experiencing such spaces in XR and in person.
"I regard this project as an effort toward a broader architectural metaverse consisting of immersive experiences in XR of physical spaces around the world that are difficult or impossible to access due to political, social, and even cultural constraints," says Vlavianos. "These spaces in the metaverse are information hubs promoting an embodied experiential approach of living, sensing, seeing, hearing, and touching."
Nasser Rabbat, the Aga Khan Professor and director of the Aga Khan Program for Islamic Architecture at MIT, also offered advice and guidance on the early stages of the project.
The project — formally titled "Ways of Seeing: Documenting Endangered Built Heritage in Afghanistan" — encompasses imaging of four quite varied historical sites in Afghanistan.
These are the Green Mosque in Balkh; the Parwan Stupa, a Buddhist dome south of Kabul; the tomb of Gawhar Saad, in Herat, in honor of the queen of the emperor of the Timurid, who was herself a highly influential figure in the 14th and 15th centuries; and the Minaret of Jam, a remarkable 200-foot tall tower dating to the 12th century, next to the Hari River in a distant spot in western Afghanistan.
The sites thus encompass multiple religions and a diversity of building types. Many are in remote locations within Afghanistan that cannot readily be accessed by visitors — including scholars.
"Ways of Seeing" is supported by a Mellon Faculty Grant from the MIT Center for Art, Science, and Technology (CAST), and by faculty funding from the MIT School of Humanities, Arts, and Social Sciences (SHASS). It is co-presented with the Institute for Data, Systems, and Society (IDSS), the Sociotechnical Systems Research Center (SSRC) at the MIT Schwarzman College of Computing, the MIT Department of Political Science, and SHASS.
Two students from Wellesley College participating in MIT's Undergraduate Research Opportunities Program (UROP), seniors Meng Lu and Muzi Fang, also worked on the project under the guidance of Vlavianos to create a video game for children involving the Gawhar Saad heritage site.
To generate the imagery, the MIT team worked with an Afghan digital production team that was on the ground in the country; they went to the four sites and took thousands of pictures, having been trained remotely by Vlavianos to perform a 3D scanning aerial operation. They were led by Shafic Gawhari, the managing director for Afghanistan at the Moby Group, an international media enterprise; others involved were Mohammad Jan Kamal, Nazifullah Benaam, Warekzai Ghayoor, Rahm Ali Mohebzada, Mohammad Harif Ghobar, and Abdul Musawer Anwari.
The journalists documented the sites by collecting 15,000 to 30,000 images, while Vlavianos computationally generated point clouds and mesh geometry with detailed texture mapping. The outcome of those models consisted of still images,  immersive experiences in XR, and data for Pejkovic.
"'Ways of Seeing' proposes a hybrid model of remote data collection," says Vlavianos, who in his time at MIT has also led similar projects at Machu Picchu in Peru, and the Simonos Petra monastery at Mount Athos, Greece. To produce similar imagery even more easily, he says, "The next step — which I am working on — is to utilize autonomous drones deployed simultaneously in various locations on the world for rapid production and advanced neural network algorithms to generate models from lower number of images."
In the future, Vlavianos envisions documenting and reconstructing other sites around the world using crowdsourcing data, historical images, satellite imagery, or even by having local communities learn XR techniques.
Pejkovic produced her drawings based on the digital models assembled by Vlavianos, carefully using a traditional rendering technique in which she would first outline the measurements of each structure, at scale, and then gradually ink in the drawings to give the buildings texture. The inking technique she used is based on VERNADOC, a method of documenting vernacular architecture developed by the Finnish architect Markku Mattila.
"I wanted to rediscover the most traditional possible kind of documentation — measuring directly by hand, and drawing by hand," says Pejkovic. She has been active in conservation of cultural heritage for over 10 years.
The first time Pejkovic ever saw this type of hand-drawn renderings in person, she recalls thinking, "This is not possible, a human being cannot make drawings like this." However, she wryly adds, "You know the motto at MIT is 'mens et manus,' mind and hand." And so she embarked on hand drawing these renderings herself, at a large scale — her image of the Minaret of Jam has been printed in a crisp 8-foot version by the MIT team.
"The ultimate intent of this project has been to make all these outputs, which are co-owned with the Afghans who carried out the data collection on the ground, available to Afghan refugees displaced around the world but also accessible to anyone keen to witness them," Christia says. "The digital twins [representations] of these sites are also meant to work as repositories of information for any future preservation efforts. This model can be replicated and scaled for other heritage sites at risk from wars, environmental disaster, or cultural appropriation."