MIT Policy Hackathon produces new solutions for technology policy challenges
Photo courtesy of the event organizers.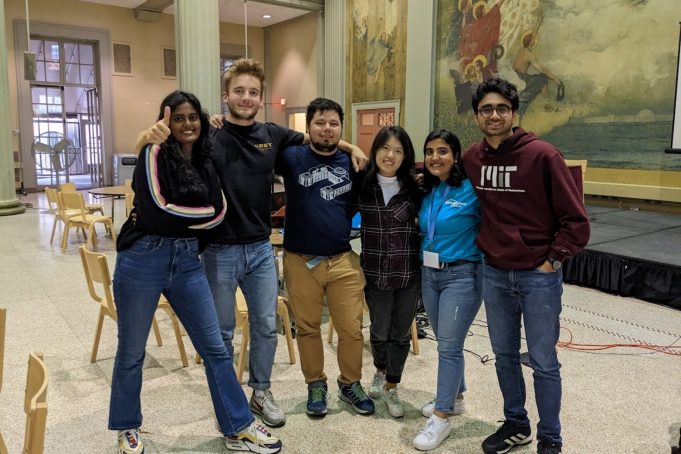 Photo courtesy of the event organizers.
Hackathon explores policy solutions to challenges in cybersecurity, environmental justice, and city planning focused on post-pandemic efforts to build a better society.
November 28, 2022
---
Almost three years ago, the Covid-19 pandemic changed the world. Many are still looking to uncover a "new normal."
"Instead of going back to normal, [there's a new generation that] wants to build back something different, something better," says Jorge Sandoval, a second-year graduate student in MIT's Technology and Policy Program (TPP) at the Institute for Data, Systems and Society (IDSS). "How do we communicate this mindset to others, that the world cannot be the same as before?"
This was the inspiration behind "A New (Re)generation," this year's theme for the IDSS-student-run MIT Policy Hackathon, which Sandoval helped to organize as the event chair. The Policy Hackathon is a weekend-long, interdisciplinary competition that brings together participants from around the globe to explore potential solutions to some of society's greatest challenges.
Unlike other competitions of its kind, Sandoval says MIT's event emphasizes a humanistic approach. "The idea of our hackathon is to promote applications of technology that are humanistic or human-centered," he says. "We take the opportunity to examine aspects of technology in the spaces where they tend to interact with society and people, an opportunity most technical competitions don't offer because their primary focus is on the technology."
The competition started with 50 teams spread across four challenge categories. This year's categories included Internet and Cybersecurity, Environmental Justice, Logistics, and Housing and City Planning. While some people come into the challenge with friends, Sandoval said most teams form organically during an online networking meeting hosted by MIT.
"We encourage people to pair up with others outside of their country and to form teams of different diverse backgrounds and ages," Sandoval says. "We try to give people who are often not invited to the decision-making table the opportunity to be a policymaker, bringing in those with backgrounds in not only law, policy, or politics, but also medicine, and people who have careers in engineering or experience working in nonprofits."
Once an in-person event, the Policy Hackathon has gone through its own regeneration process these past three years, according to Sandoval. After going entirely online during the pandemic's height, last year they successfully hosted the first hybrid version of the event, which served as their model again this year.
"The hybrid version of the event gives us the opportunity to allow people to connect in a way that is lost if it is only online, while also keeping the wide range of accessibility, allowing people to join from anywhere in the world, regardless of nationality or income, to provide their input," Sandoval says.
For Swetha Tadisina, an undergraduate computer science major at Lafayette College and participant in the internet and cybersecurity category, the hackathon was a unique opportunity to meet and work with people much more advanced in their careers. "I was surprised how such a diverse team that had never met before was able to work so efficiently and creatively," Tadisina says.
Erika Spangler, a public high school teacher from Massachusetts and member of the environmental justice category's winning team, says that while each member of "Team Slime Mold" came to the table with a different set of skills, they managed to be in sync from the start — even working across the nine-and-a-half-hour time difference the four-person team faced when working with policy advocate Shruti Nandy from Calcutta, India.
"We divided the project into data, policy, and research and trusted each other's expertise," Spangler says, "Despite having separate areas of focus, we made sure to have regular check-ins to problem-solve and cross-pollinate ideas."
During the 48-hour period, her team proposed the creation of an algorithm to identify high-quality brownfields that could be cleaned up and used as sites for building renewable energy. Their corresponding policy sought to mandate additional requirements for renewable energy businesses seeking tax credits from the Inflation Reduction Act.
"Their policy memo had the most in-depth technical assessment, including deep dives in a few key cities to show the impact of their proposed approach for site selection at a very granular level," says Amanda Levin, director of policy analysis for the Natural Resources Defense Council (NRDC). Levin acted as both a judge and challenge provider for the environmental justice category.
"They also presented their policy recommendations in the memo in a well-thought-out way, clearly noting the relevant actor," she adds. This clarity around what can be done, and who would be responsible for those actions, is highly valuable for those in policy."
Levin says the NRDC, one of the largest environmental nonprofits in the United States, provided five "challenge questions," making it clear that teams did not need to address all of them. She notes that this gave teams significant leeway, bringing a wide variety of recommendations to the table.
"As a challenge partner, the work put together by all the teams is already being used to help inform discussions about the implementation of the Inflation Reduction Act," Levin says. "Being able to tap into the collective intelligence of the hackathon helped uncover new perspectives and policy solutions that can help make an impact in addressing the important policy challenges we face today."
While having partners with experience in data science and policy definitely helped, fellow Team Slime Mold member Sara Sheffels, a PhD candidate in MIT's biomaterials program, says she was surprised how much her experiences outside of science and policy were relevant to the challenge: "My experience organizing MIT's Graduate Student Union shaped my ideas about more meaningful community involvement in renewables projects on brownfields. It is not meaningful to merely educate people about the importance of renewables or ask them to sign off on a pre-planned project without addressing their other needs."
"I wanted to test my limits, gain exposure, and expand my world," Tadisina adds. "The exposure, friendships, and experiences you gain in such a short period of time are incredible."
For Willy R. Vasquez, an electrical and computer engineering PhD student at the University of Texas, the hackathon is not to be missed. "If you're interested in the intersection of tech, society, and policy, then this is a must-do experience."