MIT and Amazon establish the Science Hub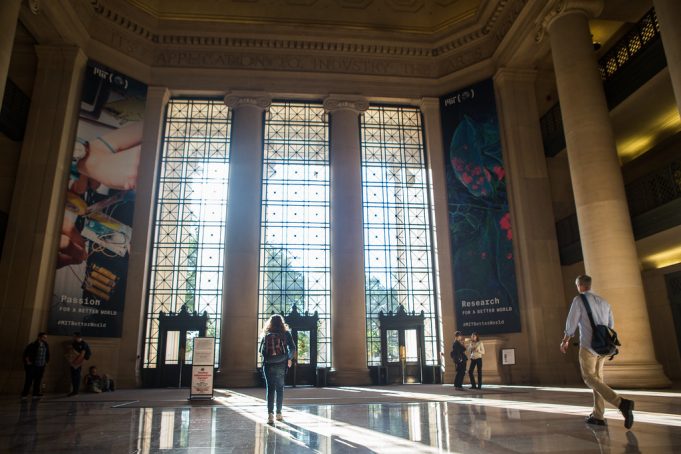 Administered at MIT by the Schwarzman College of Computing, the hub aims to expand participation in AI, robotics, and other fields, and ensure the benefits of this research are shared broadly.
October 4, 2021
---
With the goal of increasing connections and fostering the growth of the research community in computing, the Science Hub launches today as a new collaboration established by MIT and Amazon. The Science Hub will support research, education, and outreach efforts in areas of mutual interest, beginning with artificial intelligence and robotics in the first year.
 
Administered at MIT by the Schwarzman College of Computing, the Science Hub aims to ensure that the benefits of artificial intelligence and robotics innovations are shared broadly — both through education and by advancing research — and that participation in the research is broadened to encompass diverse, interdisciplinary scholars, and other innovators.

"AI and robotics have an enormous impact on every aspect of our lives, fundamentally changing how we work, learn, access resources and services, and connect to one another — so it's critical we conduct research that advances the field in ways that are responsible, effective, and beneficial to society," says Aude Oliva, a senior research scientist and director of strategic industry engagement in the MIT Schwarzman College of Computing, who will serve as the principal investigator for the Science Hub.

"We take an expansive view of AI and robotics to include expertise from across all five of the Institute's schools and the college. We're excited by the potential of collaborations with industry leaders who bring their insights to the research, want to support the next generation of talent, and are best positioned to implement what is learned," says Oliva.

The collaboration will enable a broad set of programs across MIT, including fellowships that will be awarded annually to graduate students and postdoctoral researchers, as well as support for events and activities that accelerate AI and robotics research in ways to make it more accessible, such as research symposia that are open to other academic institutions and the public. Additional sponsored research funds will be provided to stand up research projects led by MIT faculty members.

"We are delighted to join forces with MIT, bringing together top scientists and engineers from our two organizations in a joint endeavor to find solutions to the most challenging problems in AI and robotics," says Tye Brady SM '99, chief technologist at Amazon Robotics. "MIT's well-established record of conducting leading-edge, multi-disciplinary research paired with Amazon's emphasis on translating research into applied science will help ensure the new hub results in practical solutions whose benefits extend beyond industry and academia."

"We are particularly keen to utilize the breadth of collaboration mechanisms available in the new hub, including sponsored research which could lead to open-source publications and community outreach that will broaden participation in the research process," adds Siddhartha Srinivasa, director of Amazon Robotics AI. "These mechanisms are now open to all the business areas of Amazon beyond Robotics too, so we are excited to see the breadth of innovation to come from this collaboration in the coming years."

The Science Hub represents a new level of engagement for MIT and Amazon and complements existing collaborations between the two organizations. Dating back to 2003, the MIT Leaders for Global Operations has had a longstanding engagement with Amazon. Earlier this year, the MIT Center for Transportation & Logistics supported the Amazon Last Mile Routing Research Challenge in which academic teams trained machine-learning models to predict the delivery routes chosen by experienced drivers.

Additionally, three MIT faculty — Victor Chernozhukov, the International Ford Professor in the Department of Economics and Statistics and Data Science Center; Yury Polyanskiy, associate professor in the MIT Department of Electrical Engineering and Computer Science; Institute for Data, Systems, and Society; Laboratory for Information and Decision Systems; and Statistics and Data Center; and Alexander Rakhlin, professor in the MIT Department of Brain and Cognitive Sciences and Statistics and Data Science Center — are currently participating as Amazon Scholars, a program for academics from universities around the globe who want to work on large-scale technical challenges while continuing to teach and conduct research.

The establishment of the Science Hub is expected to help reduce administrative challenges to the evolution and thematic shifts of collaboration on both technical and societal questions, and provide a lower friction start for new undertakings and growth of successful activities for both MIT and Amazon by creating a recognizable path and process for gifts and industry-sponsored research.