Microsoft President Brad Smith talks data, Covid-19, and a potential "digital 9/11"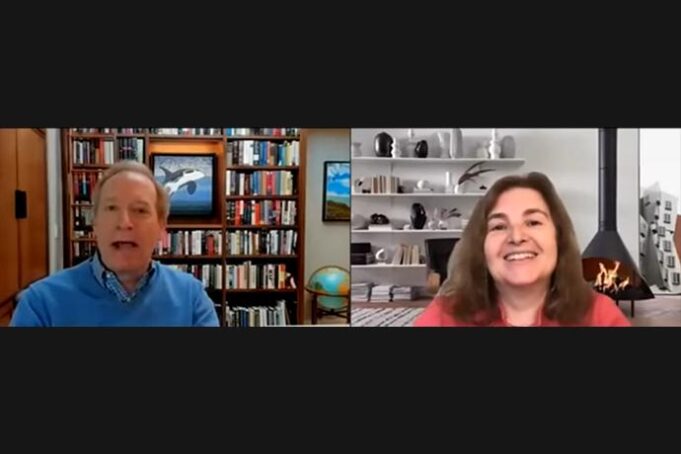 Smith spoke with CSAIL Director Daniela Rus as part of a special series co-presented by the MIT Schwarzman College of Computing.
May 21, 2020
---
In a virtual discussion hosted by MIT last week, viewers learned that there are many problems that concern Microsoft President Brad Smith: things like climate change, Covid-19, and the work of the future.

Attendees also learned how seriously he takes the issue of computer security: 45 minutes into the event, his Windows system automatically rebooted for a lightning-quick software update.

"There are a lot of benefits to working from home," he said with a laugh after rejoining, "but it certainly also adds a level of unpredictability."

Smith's conversation with MIT Professor Daniela Rus on May 14 spanned a wide range of topics, from the challenges of Covid-19 to the security of online voting. The fireside chat was held as part of MIT's "Hot Topics in Computing" series, founded by the Computer Science and Artificial Intelligence Laboratory (CSAIL). The series is now an Institute-wide effort being co-presented with the MIT Stephen A. Schwarzman College of Computing (SCC). SCC Dean Dan Huttenlocher opened the event with a welcome to the audience and introduced Smith and Rus.
Having worked at Microsoft for 25 years and served as its president since 2015, Smith gave an inside look at what it's been like to be there in recent months — and what the tech company has done to try to help curb the spread of Covid-19. 

In March, for example, Microsoft developed a chatbot to help people determine if they might need a Covid-19 test. Within weeks of deploying the app at a hospital in Seattle, Washington, the company started rolling it out more broadly. The chatbot was ultimately used 190 million times in April, and is now available at 1,500 institutions across 23 countries. 

Smith also discussed the promising work being done with Bluetooth-based contact tracing, but expressed skepticism that it could be adopted at a meaningful scale.

"Not everyone is going to walk around with an app on their phone," he said. "I think we should recognize that it is a tool, and not a panacea."

Smith and his colleague Carol Ann Browne recently co-wrote the book "Tools and Weapons," which examines the promise and peril of technology for both good and bad. The authors draw on lessons in history, from Edward Snowden's revelations about government surveillance to the Cambridge Analytica scandal, to explore the future of technology and how it needs to be managed. 

While he agreed with Rus' assessment of the book as one "where the geeks are the heroes," Smith also warned of the dangers of a future "digital 9/11" with respect to the electric grid and future presidential elections. 

"You don't need to be a PhD in computer science to have an important role to play," he said. "As consumers, citizens, and voters, we're at a point of time where we'd all benefit from being better informed."

The long-time sustainability advocate also spoke about Microsoft's ambitious goals to not just be carbon-negative by 2030, but to remove all of the carbon that the company has emitted since 1975 in the next 30 years. At a higher level, Smith advocated for making what he calls "the biggest R&D investment of our century" to develop new techniques to remove carbon from the environment. 

"We're going to need huge breakthroughs in the next three decades if we are going to achieve this fundamental goal of protecting the planet the way we need to," he said.

In the hourlong conversation, Smith often implored his audience of computer scientists and technologists to recognize the responsibility they have to solve tangible real-world problems. He pointed out that, for all the buzz about big data over the last 20 years, the Covid-19 pandemic has actually led to government officials making decisions directly informed by data.

"Data is running the economy and deciding who can leave their house and who needs to stay home," Smith said. "The world will need the kind of technology that we can create … [and] you all have an opportunity to make a more positive impact in the world than perhaps any generation of MIT students has had before. How can that not get you excited about getting up in the morning?"