From diabetes to Covid-19, Better World (Health) showcases MIT research in action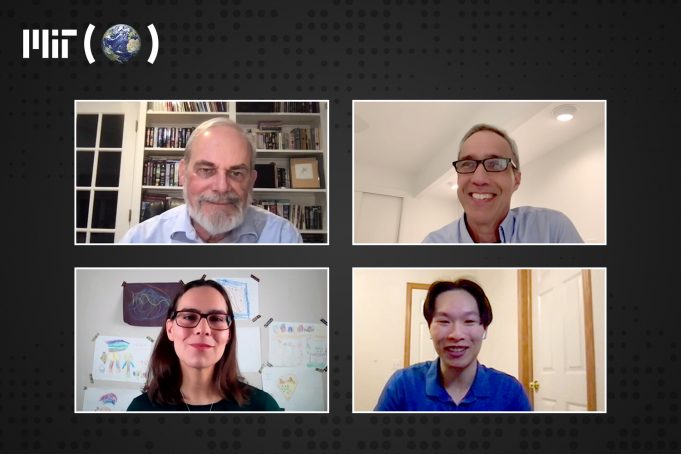 MIT alumni and friends from around the globe attended an online event that featured presentations from Institute leaders, faculty, and alumni about human health-related research.
April 21, 2021
---
"MIT's work to understand and improve human health spans decades and covers the Institute," said W. Eric L. Grimson PhD '80, at MIT Better World (Health), a virtual gathering in February. "More than a third of the faculty representing every department at MIT engage in research directly related to health science and innovation." Grimson, who is MIT's chancellor for academic advancement and the Bernard M. Gordon Professor of Medical Engineering, spoke of the many achievements of Institute scholars in the human health arena: "Serving as the hub of the densest innovation cluster in the world, MIT is nimble and inventive, particularly when it comes to the life sciences."
MIT alumni and friends from around the globe were invited to attend the online event, which featured presentations from Institute leaders, faculty, and alumni about human health-related research at the Institute. With more than 1,000 participants from 27 countries, the evening began with video greetings from nearly a dozen alumni working in a range of health-care roles all over the world. Their graduation years spanned five decades, from 1967 to 2019.
Grimson then turned the spotlight over to the presenting speakers: Daniel P. Huttenlocher SM '84 PhD '88, dean of the MIT Stephen A. Schwarzman College of Computing and Henry Ellis Warren (1894) Professor of Electrical Engineering and Computer Science; Mariana Arcaya MCP '08, associate professor of urban planning and public health; and Steven Truong '20, a Marshall Scholar studying computational biology at the University of Cambridge in England.
Huttenlocher spoke about the role of artificial intelligence in health research. Last year, he said, faculty at MIT's Abdul Latif Jameel Clinic for Machine Learning in Health identified a new antibiotic candidate capable of killing drug-resistant bacteria. "In the search for new antibiotics, there are so many possibilities that it's not practical to try even a small fraction of them," he explained. "This is where machine learning comes in."
He also discussed the Schwarzman College's mission of educating "computing bilinguals" — "people [who] are equipped with knowledge about computing and AI in addition to their field of expertise" — and emphasized the need for experts in different disciplines to collaborate. "By truly integrating computing across MIT — that's how we'll make unparalleled leaps in making a better world."
"The work we heard about tonight embodies the MIT commitment to curiosity and discovery in the pursuit of a better, healthier world."
When the Covid-19 pandemic struck, according to Arcaya, "everyone could guess who would suffer first and most." She explained that social epidemiologists have repeatedly demonstrated that socially vulnerable people face elevated disease risk. Through participatory action research in Massachusetts cities like Chelsea and Everett, Arcaya's students learned that the high cost of Boston-area housing has forced many community members to live in overcrowded apartments or become transient, increasing their likelihood of exposure. Concluding that rapidly increasing home values in previously affordable neighborhoods also increased Covid-19 infection rates, Arcaya's team made a compelling case for public policy that protects affordable housing. "Putting residents at the center of place-based research improves social science," she said.
Truong offered a sobering statistic: People of Asian descent are three times more likely than their white counterparts to have undiagnosed diabetes, because they often lack the obesity commonly associated with the disease. "My dad was a perfect example of this," he said. "Because he didn't look like the 'typical' American with diabetes, the doctors didn't test him for it. So he was diagnosed so late in his disease that his body had already been seriously damaged." While his father's death reinforced Truong's determination to study the genetic basis of diabetes in Vietnamese people, he noted the limitations of large data resources such as the UK Biobank, which includes genetic information representative of the demographic breakdown of the UK as it currently is: 95 percent white. "I was able to kickstart something in Vietnam; hopefully, it not only sheds a little light onto these questions but also brings more awareness to this issue of representation in general," he told the audience. "I hope you uplift those underrepresented in whatever fields you represent."
"The work we heard about tonight," remarked Grimson as the main program concluded, "embodies the MIT commitment to curiosity and discovery in the pursuit of a better, healthier world."