Four MIT students awarded 2022 Schwarzman Scholarships
Image: Cauvi, Waitz, and Milanese photos by Ian MacLellan; Ho photo courtesy of Schwarzman Scholars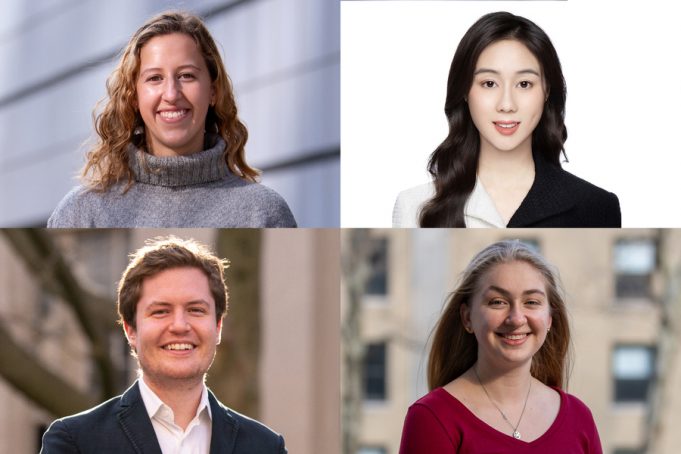 Image: Cauvi, Waitz, and Milanese photos by Ian MacLellan; Ho photo courtesy of Schwarzman Scholars
Francesca Macchiavello Cauvi, Alice Ho, Ava Waitz, and Lucio Milanese will pursue master's degrees in global affairs and leadership training at Tsinghua University in Beijing.
December 7, 2020
---
Three MIT seniors, Alice Ho, Francesca Macchiavello Cauvi, and Ava Waitz, and doctoral student Lucio Milanese have been awarded 2022 Schwarzman Scholarships. They will begin their program at Tsinghua University in Beijing next August.
For their one-year master's program in global affairs, Schwarzman Scholars receive instruction by renowned international faculty, with frequent guest lectures from global thought leaders. Leadership training, internships, mentorship, career development, and travel throughout China are also emphasized.
The mission of the Schwarzman Scholar program is to increase mutual understanding between China and the rest of the world by bringing together talented young leaders and deepening their understanding of China. Applicants are evaluated for leadership qualities and the potential to bridge cultural and political differences. This year, 154 Schwarzman Scholars were selected from more than 3,600 applicants from 39 countries. Since 2015, when the program was founded, 23 MIT students and alumni have been named Schwarzman Scholars.
MIT's Schwarzman Scholar applicants received guidance from the distinguished fellowships team in Career Advising and Professional Development, with additional mentorship from the Presidential Committee on Distinguished Fellowships. "This year's Schwarzman Scholars stand out for their passion to mitigate climate change and have demonstrated true leadership in accomplishing meaningful action while at MIT," says Kim Benard, assistant dean of distinguished fellowships. "We are incredibly proud that they will represent MIT, and know they will be influential voices in the world."
Alice Ho from Macau, China, will graduate from MIT in 2021 with a double major in management and architecture. She has a multicultural background, growing up in Macau and Hong Kong, and attending schools in the U.K. and U.S. As a Schwarzman Scholar, she looks forward to learning more about Chinese public policy. Ho was the president of SYMPH China and the founder of the MIT Finance Club, building up platforms and organizing events both in China and the U.S. She has been a summer intern at Ernst and Young and Macau Theme Park and Resort Limited.
Born in Lima, Peru, and raised in Lexington, Kentucky, Francesca Macchiavello Cauvi is a senior majoring in computer science, economics, and data science. Her interests lie in accessible energy development. Macchiavello has taught computer science in Durban and interned at a social enterprise in Rio de Janeiro. She is currently working with MIT D-Lab on a solar energy project in northern Uganda. She has served as the diversity co-chair for MIT's Undergraduate Economics Association, captain of the MIT women's volleyball team, and a mentor for Big Sisters. Macchiavello aspires to return to Peru and work on expanding energy access in rural areas.
Hailing from Italy, Lucio Milanese earned a degree in physics from Imperial College London and is currently pursuing a PhD in nuclear engineering at MIT, where he works on the science and technology of controlled fusion as a clean and inexhaustible energy source. At MIT, Milanese served as president of the Sidney Pacific graduate dorm and has held leadership roles with the Graduate Student Council and the advisory board to the dean of the School of Engineering. Off campus, he served on the executive committees of the Italian and International Association of Physics Students. Milanese aspires to become a global leader at the intersection of science, business, and policy in the emerging fusion energy industry.
Ava Waitz from Newton, Massachusetts, will graduate next spring with a BS in materials science and engineering and a minor in energy studies. Waitz intends to spend her life addressing climate change. At MIT she has worked on transparent solar cell development, systems-level analysis of various greenhouse gas emitting industries, and local climate activism. She has held executive roles with the MIT Climate Action Team and worked as a technology and policy researcher with the MIT Environmental Solutions Initiative Rapid Response Group. In the future, Waitz plans to improve the sustainability of global manufacturing systems through the development of a circular materials economy.
MIT students and recent alumni interested in learning more about the Schwarzman Scholarship program can contact fellowships@mit.edu.