Four MIT faculty awarded 2023 Sloan Research Fellowships for computing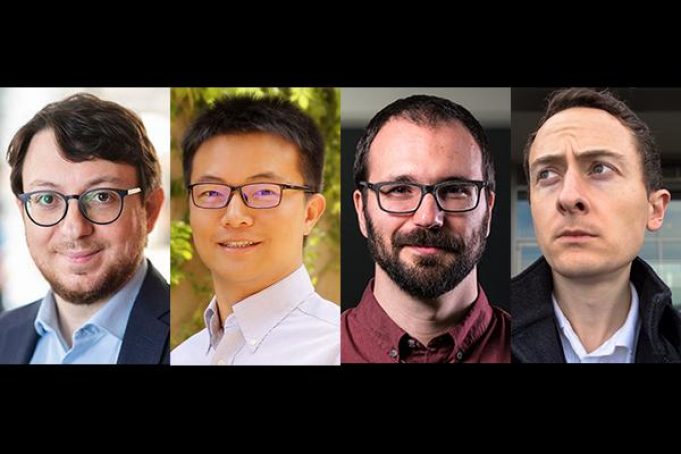 Prestigious fellowship honors early-career researchers for creativity, innovation, and research accomplishments.
February 28, 2023
---
Four faculty affiliated with the MIT Schwarzman College of Computing have been named 2023 Sloan Research Fellows for groundbreaking work in computing.
Awarded annually by the Alfred P. Sloan Foundation since 1955, the recipients, along with five other members from the MIT faculty, are among 125 early-career researchers across seven fields honored with fellowships this year.
To date, a total of 318 MIT faculty have received Sloan Research Fellowships, which recognizes researchers "whose creativity, innovation, and research accomplishments make them stand out as the next generation of leaders."
Many young researchers awarded the prestigious fellowship have gone on to become prominent figures in science: 56 fellows have received a Nobel Prize in their respective field, 17 have won the Fields Medal in mathematics, and 22 have won the John Bates Clark Medal in economics, including every winner since 2007.
The four MIT researchers honored for their work in computing this year include:
Luca Carlone, the Leonardo Career Development Associate Professor in the Department of Aeronautics and Astronautics, a principal investigator in the MIT Laboratory for Information and Decision Systems (LIDS), and the director of the MIT SPARK Lab, which works at the cutting edge of robotics and autonomous systems research. Carlone researches human-level perception and world understanding on mobile robotics platforms (drones, self-driving vehicles, ground robots) operating in the real world. His research includes nonlinear estimation and probabilistic inference, numerical and distributed optimization, and geometric computer vision applied to sensing, perception, and decision-making in single and multi-robot systems. Carlone was recently selected to the editorial board of the International Journal of Robotics as a senior editor and named an associate fellow class of 2023 in the American Institute of Aeronautics and Astronautics.
Rafael Gómez-Bombarelli, the Jeffrey Cheah Career Development Chair in Engineering in the Department of Materials Science and Engineering and an investigator in the MIT-IBM Watson AI Lab. His research pairs computational design with machine learning to accelerate the discovery of new materials. Using theoretical and experimental data, Gómez-Bombarelli and his research lab colleagues relate the composition and structure of molecules and solids to their performance and identify candidates for practical applications. They have used the approach to design new forms of zeolites, for example — a class of porous minerals used in industrial applications — for specific, climate-change-focused applications, such as cleaning up exhaust from vehicles. Other applications include therapeutic peptides, electrolytes for batteries, inorganic oxides for sustainable catalysis, carbon-capture materials, and sustainable polymers. Gómez-Bombarelli, with Connor Coley and Ernest Fraenkel, has developed the new widely popular class, Machine Learning for Molecular Engineering, as part of the MIT Schwarzman College of Computing's Common Ground for Computing Education.
Song Han, associate professor in the Department of Electrical Engineering and Computer Science (EECS) and an investigator in the MIT-IBM Watson AI Lab. Han proposed the "Deep Compression" technique that's widely used for efficient artificial intelligence computing, and "Efficient Inference Engine" that first brought weight sparsity to modern AI chips, which influenced NVIDIA's Ampere GPU. He introduced the TinyML research that brings deep learning to internet-of-things devices, enabling learning on the edge. His work on hardware-aware neural architecture search (once-for-all network) enables users to design, optimize, shrink, and deploy AI models to resource-constrained hardware devices. Han received best paper awards at ICLR and FPGA, faculty awards from Amazon, SONY, Facebook, NVIDIA, and Samsung, NSF CAREER Award, "35 Innovators Under 35" by MIT Technology Review, and "AIs 10 to Watch: The Future of AI" award by IEEE.
Jonathan Ragan-Kelley, the Esther and Harold E. Edgerton Associate Professor in EECS and an investigator in the MIT-IBM Watson AI Lab. He is also affiliated with the Computer Science and Artificial Intelligence Laboratory (CSAIL), where his research focuses on computer graphics, compilers, domain-specific languages, and high-performance systems. While completing his PhD at MIT in 2014 under the supervision of professors Frédo Durand and Saman Amarasinghe, Ragan-Kelley was instrumental in developing the language and compiler Halide, "a language for fast, portable computation on images and tensors" that has become the "industry standard for computational photography and image processing." Fast and efficient, Halide was created to make writing high-performance image processing code on modern machines more seamless. His earlier work on the language Lightspeed has been an instrumental tool in producing films, and for those efforts he was a finalist for a technical Academy Award.