Dropbox founder envisions the future workplace
Photo: Matt Winkelmeyer/Getty Images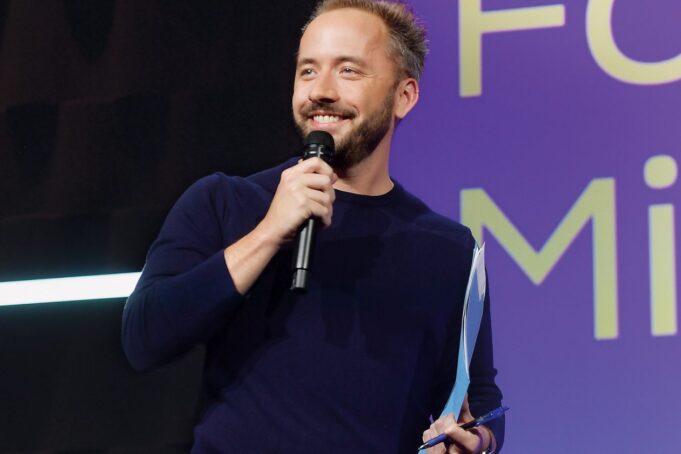 Photo: Matt Winkelmeyer/Getty Images
Drew Houston '05 is on a mission to create a better world — of work. Few would argue he made a great start when he launched Dropbox. Cofounded with MIT classmate Arash Ferdowsi in 2007, Dropbox today helps 600 million people around the world share and keep track of files.

Now that Houston is CEO of one of the world's leading business collaboration platforms with 2,300 employees and 12 offices, he says he has become increasingly frustrated with the inefficiency of the modern workplace. That's one reason he made an early gift in support of the MIT Stephen A. Schwarzman College of Computing. His gift supports the hiring of a chaired faculty member in the college and the MIT Sloan School of Management who pursues research at the intersection of computer science and management science. It also provides the college's inaugural dean, Daniel Huttenlocher SM '84, PhD '88, the Henry Ellis Warren Professor of Computer Science and AI and Decision-Making, with flexible start-up funding.

Advances in computing, especially those related to artificial intelligence (AI) and machine learning, hold great promise for transforming workplaces for the better, Houston says. "I'm proud to see MIT leading from the front, making ambitious investments like the one in this college."

Houston explains that he's particularly concerned about productivity loss caused by "work about work," the estimated 60% of time that knowledge workers spend on tasks such as finding information, checking email, toggling between apps, and coordinating with people and teams around the world.

"Every challenge we have as a society depends on being able to harness our brainpower and do knowledge work well," Houston says, noting that today's systems often create roadblocks to humanity's highest goals. "Brainpower is the fuel for human progress."

Speaking at the launch of the MIT Schwarzman College of Computing in 2019, Houston outlined a vision for a future in which computers relieve modern workers of much of their busywork, transforming lives the way that the Industrial Revolution did by relieving 18th- and 19th-century workers of many physically burdensome tasks.

"My hope is that in 2030, we'll look back on now as the beginning of a revolution that freed our minds the way the Industrial Revolution freed our hands," Houston says. "And that it happens right here. The college will be a place where that revolution is born."

The college's focus on computing and AI across all disciplines aligns with Houston's vision for the workplace of the future, in which, he explains, "we'll all have an AI copilot." At Dropbox, he has reimagined the experience of using technology at work, evolving the company from a passive content repository to a living workspace that brings teams' content together while letting them use the tools they love. Last fall, the company rolled out Dropbox Spaces, the first iteration of his vision, which allows teams to collaborate, receive feedback, track to-dos, and see what they are working on in real time.
"My hope is that in 2030, we'll look back on now as the beginning of a revolution that freed our minds the way the Industrial Revolution freed our hands," Houston says.
In Houston's view, machine intelligence used well is like having a very smart person cutting through the clutter of the modern workplace, making it possible for workers to get what they need most quickly. Dropbox Spaces, he says, layers machine intelligence to apply deep learning to content, the application ecosystem, and team activity to surface the most relevant content.

Houston believes that content suggestions in Dropbox Spaces help users focus on the truly important aspects of their work and saves them time. "Burnout is a real issue, classified as an occupational phenomenon by the World Health Organization," he notes. "Some of that burnout results from time spent on busywork that employees don't really need to do."

Talk of automation and AI often leads human workers to fear that they could be replaced by machines, and Houston acknowledges this societal concern. "That's one of the reasons I'm excited about the Schwarzman College," he says. "We have a lot of smart people at MIT already making progress on that issue."

On the other hand, he points out, computers are not people. "They don't have feelings or dreams or a soul or imagination. We have unique abilities that computers won't be able to match any time soon."
---
This article originally appeared in the Spring 2020 issue of MIT Spectrum magazine.