Byte-sized learning
Image courtesy of Code For Good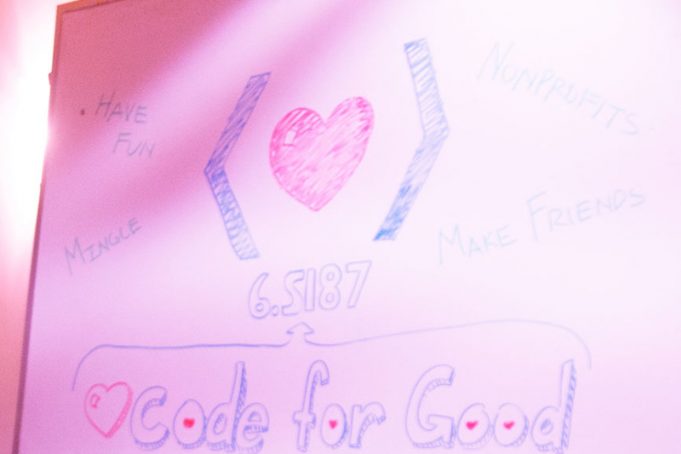 Image courtesy of Code For Good
2021 IAP offerings from the Department of Electrical Engineering and Computer Science ranged from the playful to the profound.
February 4, 2021
---
For 50 years, MIT students have taken advantage of Independent Activities Period, a special mini-term, only four weeks long, tucked between the end of the fall and beginning of the spring semesters. This year, IAP looked a little different, as Covid-19 precautions led instructors to shift their classes online, but the term's spirit of innovative, creative exploration remained.
In keeping with that spirit, IAP offerings from the Department of Electrical Engineering and Computer Science (EECS) ranged from the playful to the profound.
Many MIT students take advantage of the short IAP session to delve into a topic or field outside their regular comfort zone. "Deep Learning For Art, Aesthetics, and Creativity" was designed to accommodate exactly that sort of exploration. The course's instructor, Ali Jahanian, says his inspiration for teaching the IAP stems from his own experiences with the arts. "I have a background in design, painting, and visual arts, and always got inspired from that kind of creative work. In my research, I have been working on understanding and quantifying aesthetics and design, but after my PhD thesis, I got more involved with the intriguing notion of learning by creating," he reports. "While many of my colleagues are working on understanding intelligence, I am specifically interested in the angle of creativity and innovation of our intelligence. For instance, how can we generalize from data to create data that is out-of-distribution of the seen datasets?"
Jahanian's approach is specifically geared to appeal not only to computer scientists, but to anyone with curiosity about the artistic possibilities of AI. "The idea of the course is to help students understand how can we use AI for creativity, and how creativity can help us learn and develop better AI. First they need to understand what's happening right now, in 2021, around AI and creativity — then they need to understand the boundaries of those notions and how they can push that boundary forward," says Jahanian, who sees the use of artificial intelligence as an inherently creative act. "To me, AI is fascinating because it's a reflection of how we are. We have the desire of replicating and recreating ourselves, and that is why artists get joy out of creating."
The applications of a creative AI — or one that can predict the human aesthetic preference — are numerous. "We can certainly learn and quantify our taste. Those kinds of quantitative algorithms have broad applications in understanding our emotions and feeling; for instance, if you have a robot which communicates with you, in your home, you want that robot to understand what you want, what you like, what is your personal taste." More immediately, Jahanian believes his students will benefit from the tangible nature of art as a tool for learning. "I think of this process as learning by defining a problem; if the problem is something interesting and tangible, something we can relate to, then we have a better chance of engaging ourselves," says Jahanian, noting that the scholarly term for the satisfying feeling of solving a problem is "visceral aesthetics." "Hopefully, the students will get motivated to learn something about AI through this cool topic. Sometimes it is hard for students to understand how a loss function works, but if I could see it visually while trying to match two images, maybe that can help me to intuitively understand loss function or the math behind it. Maybe that even helps me become motivated to learn more."
For those who like a bit of risk with their learning, the Pokerbots competition, now going on its 10th year, offered the chance to win real prizes by designing and deploying competitive, card-playing bots in a virtual tournament. "I joined freshman year because I was interested in the intersection of math, computer science, and game theory; Pokerbots seemed like a good way to combine all three," says Shreyas Srinivasan, now a junior in mathematics with computer science who is serving as the president of MIT Pokerbots for the second year. "The project of building a bot forces you to apply the concepts you've learned, dive deep into them, and increase your understanding. It leaves you with a sense of accomplishment and the unique experience of creating a bot that can demolish human players in poker."
Srinivasan isn't exaggerating the bots' power. "There is a good comparison to be made to chess and other games that have been solved with computational processes," says Stephen Otremba, a senior in Course 6-3 (Computer Science and Engineering) and head instructor of this year's Pokerbots course. "With the progress we've made in the realms of machine and reinforcement learning, programs have been able to advance more quickly than human play." Each Pokerbots attendee had the chance to test that claim; at the end of each IAP, the organizers have traditionally set aside time for the players to try their luck against their own bots. "Over the last few years, in the game variants that we set, the bots are able to beat their creators handily," reports Srinivasan. Those variants change every year — this year, the organizers took their inspiration from popular minigame Blotto by providing each player with an individual pool of chips. The players then created a bot that can advantageously allocate the pool across three simultaneous poker games. Fittingly, this year's competition was primarily sponsored by quantitative trading firms. Srinivasan explains why: "Both trading and poker revolve around risk management, and this year's game variant is all about managing the resource of your starting stack of chips across three boards. It is similar to trading where you are managing a portfolio of different stocks and securities and seeking maximum returns from that allocation."
Both Srinivasan and Otremba acknowledge the changes that Covid brought to their beloved competition, but those changes are not without a silver lining. "Something we're considering implementing in future years is continuing to livestream our lectures, because it means that more students are able to attend," says Srinivasan, who also reports greater ease in booking guest speakers over Zoom. This year, one of those guest speakers included famed computational poker researcher Noam Brown, now an AI researcher at Facebook, who developed Libratus, one of the first AIs capable of beating professional poker players. Whether Pokerbots students go on to reign on the competitive circuit or join a trading firm, their experience is sure to serve them well. Says Otremba: "The Pokerbots competition not only provided me an outlet in a real project environment, but taught me about putting my ideas into code, collaborating with a team effectively, learning all the stages that software development goes through; handling all the challenges like debugging and theory problems. It provided me with a great way to get some valuable experience in the software area and acted like a springboard to even more challenging projects."
"Code For Good" was another offering for students who wanted to use their technical skills to make a positive difference in the world. The long-running workshop partnered with nonprofit organizations to tackle technical projects, giving students a chance to contribute valuable time and expertise to organizations that align with their personal areas of interest. "I really believe in the mission of Code For Good, helping nonprofits solve their challenges with technology," says Lucy Liao, a senior majoring in 6-3 who joined Code For Good in her junior year as an organizer, a project management role that helps link a team of students with a nonprofit. "It was an interesting experience because, in addition to thinking about projects and code, there was a lot of communications as well — talking to the nonprofits, making sure everyone is aware of the deadlines, keeping the projects moving smoothly," Liao reports.
Those projects run the gamut, from discrete and contained to sprawling and ambitious. Senior Victoria Juan explains the application process: "Throughout the school year, the nonprofits apply for help through a Google Form which asks them to include details about themselves, like what kind of project they're looking for and what kind of resources or budget they already have. At the beginning of IAP, we make the projects known to the students, who make their choices based on the project; sometimes, people are passionate about the mission of the nonprofit as well." Those nonprofits run the gamut, from a peace-building organization based in Afghanistan to the Cambridge, Massachusetts, YWCA.
While the Code For Good team used to exert a degree of editorial control over the scope of the projects, they more recently experimented with allowing the students to take on as much as they feel they can accomplish — with surprising results. "There were quite a few projects which I thought were so big, and I was not really sure if they were doable within one month, but I've been surprised by how much progress our students have been able to make over the course of one January," says Liao. "It's cool to see what people have been able to accomplish in such a short time."
Besides the resume-building software accomplishments, Code For Good students are able to add leadership skills to their portfolio. Says Juan: "Helping to run the IAP was a really valuable experience because I had the chance to experience being the teacher and the leader of a classroom: making deadlines, running weekly presentations, to feel that responsibility and to make sure that the teams and projects are running on schedule — or, if they're not, help them find a way to resolve those issues." And Liao points out the surprisingly important role of communications in this tech-forward club: "A big part of the experience is learning to communicate with nontechnical people. We work often with people at MIT who are very technical, and so that's easy for us — but with people who aren't familiar with computers and are less comfortable with technical lingo, there are challenges. I think that's valuable communications experience to get."
Not too bad for a byte-sized semester!