3Q: Assessing MIT's computing infrastructure needs
Image: Bryce Vickmark (left), Dominick Reuter (right)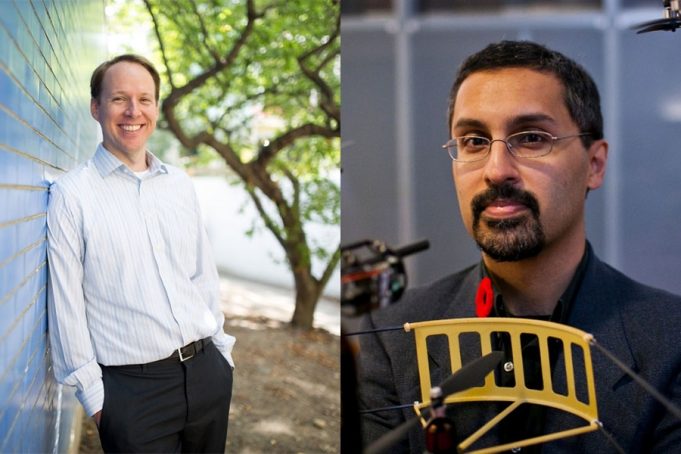 Image: Bryce Vickmark (left), Dominick Reuter (right)
In planning for the MIT Schwarzman College of Computing, working group is exploring needs across all parts of the Institute.
April 28, 2019
---
In February, the Institute established five working groups to generate ideas for different components of the structure and operation of the new MIT Stephen A. Schwarzman College of Computing. Nicholas Roy, professor of aeronautics and astronautics, and Benoit Forget, associate professor of nuclear science and engineering, are co-chairs of the Working Group on College Infrastructure, which is charged with examining how to ensure that departments, labs, and centers (DLCs) have the information and resources they require to meet their computational needs such as accessing and storing data. MIT News checked in with Roy and Forget to find out about the group's goals, processes, and progress so far.

Q: What kind of process has your working group been going through in preparing your report, and who has been involved?

A: Our working group has representatives from every school and most major DLCs. As part of our information-gathering process, our group devised a survey that was circulated to all DLCs and computing-related student groups and via meetings between working groups members and designated representatives of each group.

Additionally, the working group leveraged historical perspectives from the Athena project, as well as insights from prior working groups on related topics; a recent survey from the research computing committee that was sent to all MIT principal investigators (PIs); peer comparisons; and thematic meetings on current infrastructure (hardware, software, data, etc.) and on the needs of campus.

Q: Could you describe some of the insights from the survey?

A: One of the major insights is that there is a great deal of research computing infrastructure present on campus, but the majority of the infrastructure is relatively hard to find and access for most people. We have heard several requests for some form of centralized, accessible, and equitable computing resource at MIT. 

Currently, most of the computing resources are funded by individual PIs, leaving many on campus with a lack of access to substantial computing power. MIT is very decentralized in the computing area when compared to our peer institutions. A few DLCs have their own internal infrastructure that is centrally managed within the DLC, and that centralization has largely led to happy researchers.

Additionally, there is a strong demand for computational infrastructure and support that combines scientific and educational computing. Areas of MIT that are not commonly associated with computing find the barrier of entry quite high and could benefit from a better internal support structure on how to best use available resources.

Finally, we have heard repeatedly that personnel support is an essential part of computational infrastructure; having engineers and support staff to maintain systems is critical to accessible and equitable computing.

Q: What has been the most difficult part of this process?

A: The focus of this working group was aimed to address the computational infrastructure needs of the MIT community for research and educational activities, and the major difficulty that we ran into was defining the meaning of computing infrastructure since it means different things to different people. 

To some it is more focused on the enterprise aspect of emails, networking, and laptop/desktop resources, but for the research and education aspect it can be much broader. Our committee spent some time defining the scope of what could be addressed in the short time frame given, and by necessity chose not to address some forms of computing, such as providing specialized hardware or online education. However, some members of the MIT community feel strongly that these should be within the scope of computing infrastructure on campus.