Regina Barzilay wins $1M Association for the Advancement of Artificial Intelligence Squirrel AI award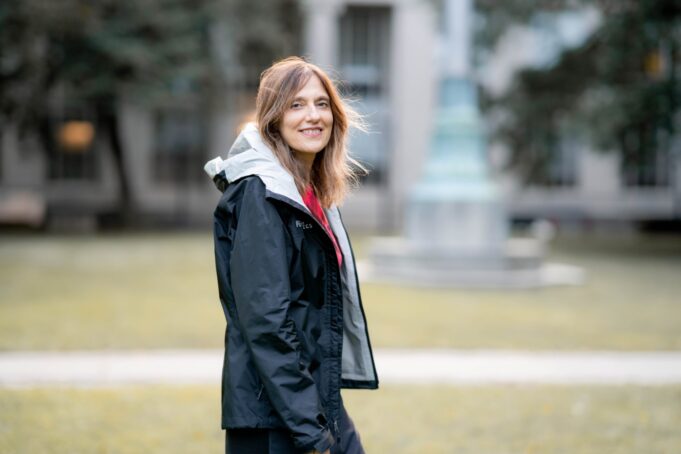 MIT professor announced as award's first recipient for work in cancer diagnosis and drug synthesis.
September 23, 2020
---
For more than 100 years Nobel Prizes have been given out annually to recognize breakthrough achievements in chemistry, literature, medicine, peace, and physics. As these disciplines undoubtedly continue to impact society, newer fields like artificial intelligence (AI) and robotics have also begun to profoundly reshape the world.
In recognition of this, the world's largest AI society — the Association for the Advancement of Artificial Intelligence (AAAI) — announced today the winner of their new Squirrel AI Award for Artificial Intelligence for the Benefit of Humanity, a $1 million award given to honor individuals whose work in the field has had a transformative impact on society.
The recipient, Regina Barzilay, the Delta Electronics Professor of Electrical Engineering and Computer Science at MIT and a member of MIT's Computer Science and Artificial Intelligence Laboratory (CSAIL), is being recognized for her work developing machine learning models to develop antibiotics and other drugs, and to detect and diagnose breast cancer at early stages.
In February, AAAI will officially present Barzilay with the award, which comes with an associated prize of $1 million provided by the online education company Squirrel AI.
"Only world-renowned recognitions, such as the Association of Computing Machinery's A.M. Turing Award and the Nobel Prize, carry monetary rewards at the million-dollar level," says AAAI awards committee chair Yolanda Gil. "This award aims to be unique in recognizing the positive impact of artificial intelligence for humanity."
Barzilay has conducted research on a range of topics in computer science, ranging from explainable machine learning to deciphering dead languages. Since surviving breast cancer in 2014, she has increasingly focused her efforts on health care. She created algorithms for early breast cancer diagnosis and risk assessment that have been tested at multiple hospitals around the globe, including in Sweden, Taiwan, and at Boston's Massachusetts General Hospital. She is now working with breast cancer organizations such as Institute Protea in Brazil to make her diagnostic tools available for underprivileged populations around the world. (She realized from doing her work that, if a system like hers had existed at the time, her doctors actually could have detected her cancer two or three years earlier.)
In parallel, she has been working on developing machine learning models for drug discovery: with collaborators she's created models for selecting molecule candidates for therapeutics that have been able to speed up drug development, and last year helped discover a new antibiotic called Halicin that was shown to be able to kill many species of disease-causing bacteria that are antibiotic-resistant, including Acinetobacter baumannii and clostridium difficile ("c-diff").
"Through my own life experience, I came to realize that we can create technology that can alleviate human suffering and change our understanding of diseases," says Barzilay, who is also a member of the Koch Institute for Integrative Cancer Research. "I feel lucky to have found collaborators who share my passion and who have helped me realize this vision."
Barzilay also serves as a member of MIT's Institute for Medical Engineering and Science, and as faculty co-lead for MIT's Abdul Latif Jameel Clinic for Machine Learning in Health. One of the Jameel Clinic's most recent efforts is "AI Cures," a cross-institutional initiative focused on developing affordable Covid-19 antivirals.
"Regina has made truly-changing breakthroughs in imaging breast cancer and predicting the medicinal activity of novel chemicals," says MIT professor of biology Phillip Sharp, a Nobel laureate who has served as director of both the McGovern Institute for Brain Research and the MIT Center for Cancer Research, predecessor to the Koch Institute. "I am honored to have as a colleague someone who is such a pioneer in using deeply creative machine learning methods to transform the fields of health care and biological science."
Barzilay joined the MIT faculty in 2003 after earning her undergraduate at Ben-Gurion University of the Negev, Israel and her PhD at Columbia University. She is also the recipient of a MacArthur "genius grant", the National Science Foundation Career Award, a Microsoft Faculty Fellowship, multiple "best paper" awards in her field, and MIT's Jamieson Award for excellence in teaching.
"We believe AI advances will benefit a great many fields, from health care and education to smart cities and the environment," says Derek Li, founder and chairman of Squirrel AI. "We believe that Dr. Barzilay and other future awardees will inspire the AI community to continue to contribute to and advance AI's impact on the world."
AAAI's Gil says the organization was very excited to partner with Squirrel AI for this new award to recognize the positive impacts of artificial intelligence "to protect, enhance, and improve human life in meaningful ways." With more than 300 elected fellows and 6,000 members from 50 countries across the globe, AAAI is the world's largest scientific society devoted to artificial intelligence. Its officers have included many AI pioneers, including Allen Newell and John McCarthy. AAAI confers several influential AI awards including the Feigenbaum Prize, the Newell Award (jointly with ACM), and the Engelmore Award.
"Regina has been a trailblazer in the field of health care AI by asking the important questions about how we can use machine learning to treat and diagnose diseases," says Daniela Rus, director of CSAIL and the Andrew (1956) and Erna Viterbi Professor of Electrical Engineering and Computer Science. "She has been both a brilliant researcher and a devoted educator, and all of us at CSAIL are so inspired by her work and proud to have her as a colleague."